My wonderful children don't really have a concept of seasonal time yet, so they're more than willing to listen to holiday-related tapes at random times throughout the year. Favorites are timeless, I guess.
Thankfully, some of their favorites include tapes I listened to as a child, including Cleveland's very own Torahvision series'
The Purim Story
. A classic, my kids are always up for another listen - case in point, this morning.
Listening with half an ear reminded me of a story I heard involving Rav Yitzchak Hutner OBM. One summer, Rav Hutner and his wife went up to Camp Morris (the summer camp affiliated with Yeshivas Chaim Berlin) to visit for a Shabbos. On Sunday morning, the couple came to the dining room following shacharis for breakfast.
Eager to please, the waiter charged with catering to the Hutners asked them what they wanted for breakfast. When Rav Hutner asked what they had, he launched into a litany of dishes, rattling off with breathtaking speed a menu that boasted hardboiled, softboiled, fried, scrambled, sunnyside up and poached eggs; belgian and regular waffles, french toast, pancakes; freshly squeezed orange juice, brewed or instant coffee, hot cereal like oatmeal and farina, or any choice of various cold cereals. Bagels, rye bread, white bread served plain or toasted with jam, mergarine, or butter - anything the Hutners wanted could be provided.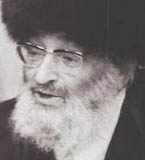 Rav Hutner - who was known for his wit as well as his size - smiled at the waiter, leaned back in his chair. Placing both hands on his stomach, he sang with the
trop
of the
megilla
: "
Al tapel davar m'kol asher dibarta!
And do not leave out anything from which you mentioned!" (Esther 6:10)