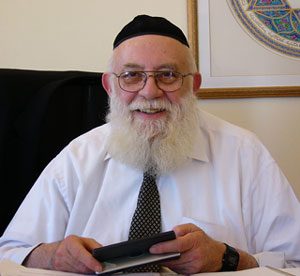 The Jewish world has lost yet another important personality. Reb Noach Weinberg, founder and dean of Aish HaTorah in Jerusalem passed away last week after battling a severe illness.
Known for his pleasant demeanor and strong belief that every Jew has a responsibility to reach out to one another - be they unaffiliated, assimilated, or just going through a rough patch - Rabbi Weinberg served as an inspiration to us all, spearheading the global
Kiruv
(outreach) movement with his own inimitable way of teaching.
I had the honor of working for one of his sons when I was volunteering at the Zone, back in the Holy Land, and I was able to see first hand the lessons he instilled in his children and students. I met him briefly - too brief to really engage him in any
hashkafic
discourse, but even in that fleeting moment, I felt the warmth he genuinely exuded.
May his memory indeed be blessed, may the many
Ba'alei Teshuva
(returnees to Judaism) that he caused to return - be they direct or through students and institutions set up by him - serve as a merit for him, and may he continue to help us up therre, near the Holy Throne...